Welcome to the In All Things Podcast, where we host conversations with diverse voices about living creatively in God's created world. Hosted by Justin Ariel Bailey, this podcast complements the creative content found at inallthings.org, the online journal for the Andreas Center at Dordt University.
Episodes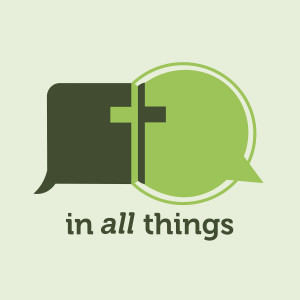 Tuesday Mar 14, 2023
Tuesday Mar 14, 2023
On this episode of the podcast, we are speaking with Dr. Kathryn Wehr, about her new annotated edition of Dorothy Sayers's The Man Born to Be King, a series of 12 radio plays broadcast and published 80 years ago during the Second World War. It is a fascinating conversation of the unique complexities and tensions of adapting the gospels for dramatic production. Among the topics we discuss:
Who was Dorothy Sayers? What are some of her works that we should know?
The controversy that surrounded the original production of the radio plays and how it drove publicity and affected the final forms of the plays.
Which characters were the most challenging to depict and which creative decisions were most successful
How Sayers sought to write plays with ecumenical appeal, for the whole church rather than merely for a particular denomination.
What Sayers might have to say to creative artists today.
We hope the conversation will encourage everyone to pick up a copy of the plays for themselves, or at least to allow this conversation to lift the film of familiarity from the great and true story that is the gospel.
Get the Wade Annotated Edition: https://www.ivpress.com/the-man-born-to-be-king
Listen to the plays: https://www.amazon.com/Man-Born-Be-King-Collection/dp/B09HSM8FJ9 
Other works by Dorothy Sayers mentioned in the conversation
Lord Peter Wimsey series (15 book series)
Introduction and Translation of Dante's Divine Comedy (Penguin classic)
The Zeal of Thy House
"The Mind of the Maker"
"The Lost Tools of Learning"
Other authors and books and authors mentioned in the conversation:
Gina Dalfanzo, Dorothy and Jack: The Transforming Friendship of Dorothy L. Sayers and C. S. Lewis 
Ronald Gurner, We Crucify!